Regular price
$350.00 USD
Regular price
Sale price
$350.00 USD
Unit price
per
Sale
Sold out
* Please read the information on this page including the disclaimer and the "no refund" policy.  In the required field below type your full name and date.   
More Healthy & Clean Air Everywhere You Go!
IONShield pendant protects you and your family by using Negative ions to help provide cleaner, fresher air by reducing allergens like dust, pollen, pet dander, dust mite debris and smoke making the air you breath cleaner.
Negative ions eliminate unhealthy particles such as PM2.5, bacteria and viruses, staphylococcus and secondhand smoke.  These negative ions attach themselves to smaller particles in the air while electrically charging them. This causes a clumping effect which makes them dense which then forces these bad particles to the ground.
This stylish and smart looking pendant weighs only 10 grams. 
Ensure the safety of your loved ones by shielding them from dangerous particles: smoke, haze, bacteria, viruses, pollution and more. Wear it wherever you go for optimal protection and health.
BENEFITS:
The IONShield weighs on 10 grams

Compact

No filter change

Eco friendly

Quiet

Powerful filtraiton of harmful particles

60 million per cm3 negative ions; highly concentrated filtration

40 minute fast-charge with up to 8 hours of usage time
Device Specs:
Model: JKY-DZ03A-WH (White)
Dimensions: 1.38 x 1.38  x .63" (35 x 35 x 16mm)
Battery Capacity: 90mAh
Charging Time: 1.5 Hours
Charge Duration: Up to 9 Hours (<90%RH)
Storage: <60% RH
Weight: .35 oz (10g)
Voltage: DC5V 1A
Operating Temperature: -10 - 40 degrees °C
View full details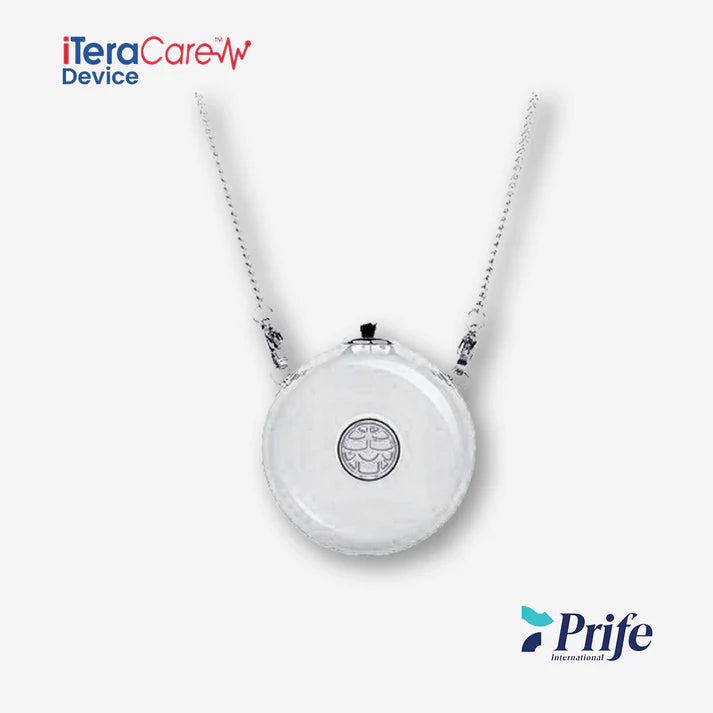 This device is not considered medical treatment.  Please speak to your sponsor/distributor for additional instructions on protocols for using the device.   As always, if you have concerns about using this device related to your personal health, it is important that you speak to your primary care physician about your concerns.
I have been informed of the refund/cancellation policy; that there are no refunds, all sales are final,  and I read the above disclaimer and wish to proceed with my order by authorizing payment processing for my orderIf you agree with the above statement, you must write "agree" and then write your full name in the required field below, in order to continue to checkout.  
Typically orders are placed through the company back office, however as the company continues to struggle with processing PayPal credit card payments, this website has been made available for you to place orders.  To place an order through our website, we must then transfer a pin to you or your sponsor, which then creates your order.  To avoid issues, Pins will be transferred after maintenance and commissions have ran.